Hey guys! Sorry didn't write much this weekend again it was the Superbowl! Yay! Who watched?! Were you happy with who won? I was! I however was not happy with that awful performance by the Black Eyed Peas! No wonder they use auto tune in their music! The commercials were alright, not the best I don't think they have topped the year where they have the cell phone security one where someone tries to steal his phone and he nails him in the head with it, or the one where it is a FedEx caveman commercial and he kicks the little baby dinosaur across the land lol. But I did enjoy the Doritos commercial where the guy is teasing his dog and then bam he nails the door on top of him and he gets the Doritos. I also really liked the commercial for the Audi car where the people are in like old time posh prison and they are escaping with a stuffed dodo and then they release the hounds which are those really fancy skinny, tall long haired dogs and then they turn on Kenny G as a distraction. Those were my two favorites.
I am linking up with Just Married With Coupons for Blog It Forward Tuesday! I know it is still Monday night but still!

I am doing my second Meet Me On Monday blog hop at Never Growing Old! Question 1) Did you watch the Superbowl?
Yes
Question 2) What was the last book that you read?
I just finished Wicked!
Question 3) What is your favorite kind of cake?
Chocolate
Question 4) Do you snore?
No
Question 5) Do you play an instrument?
Yes piano since kindergarden, some guitar and some flute.
:) go join the hop!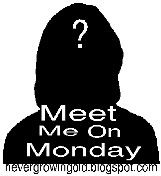 Well I am off to go fiddle on the internet! Over and out!