Hey guys! Yay two days in a row!
Guess it is more like two nights in a row huh! Hard to post at work so a lot of mine will
probably be night time posts!
Anyway Tasty Tuesday Blog Hop is today! Yay!
You can find it here at 33 Shades of Green! You will find lots of yummy recipes and friends here!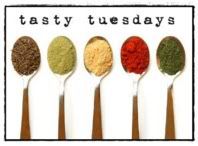 I am also linking up with Home Sweet Farm for Delectable Tuesday!
Also with Blessed WIth Grace for Tempt My Tummy Tuesday!
And finally with All The Small Stuff for Tuesdays At The Table!
So today for my Tasty Tuesday, plus all the others! I am going to show you my first attempt at my Mom's yummy slow cooker pot roast! I must admit mind was not bad for the first time.
But I am positive it will be better the next time I attempt it! Seeing as I never seem to be home
for a day to cook it!
Ingredients:
1 roast (you chose the size)
4-5 large potatoes
Good amount of carrots sliced however you like
Good amount of frozen green beans
1 packet of onion soup mix
Garlic
Beef bouillon powder
Pepper
Onion flakes
Water
This is my beautiful slow cooker that I got for Christmas from my Mom and Dad :-)
And this is my awesome Martha Stewart cutting/straining board that I got at Macy's I love it!!!
Steps:
1. Fill the pot about 2-3 inches with water, now this depends on how big your roast is, because see mine was smaller than most and so I needed less water. You really don't want the water
to cover a lot of the roast.
2. Mix one packet of onion soup mix in with the water.
3. Add about a small spoonful of beef bouillon, so about a teaspoon or more like a heaping teaspoon.
4. Add in as many frozen green beans as you would like, I like a lot.
5. Add in as many carrots as you like, I also like a lot of those. I get the whole carrots, peel them and cut them into strips.
6. Peel your potatoes and slice them in half and add them in. Once again add as many or little as you like but they definitely take up the most room.
7. Place your roast in the crock pot on top of the veggies and potatoes.
8. Sprinkle a good amount of pepper, onion flakes and garlic on top of the roast and the sides if you are able to! I like a lot of garlic and pepper.
9. If you have a red or green bell pepper you can slice it up and place it on top of the roast.
(I did not have a green or red bell pepper)
10. Cook on low for about 8 hours or until it is cooked to how you like your meat cooked!
11. When it is done enjoy! I personally love pulling it apart into little strips and eating it with worcestershire sauce!
Well I hope you guys enjoyed my recipe! I enjoy a good slow cooker pot roast now and then!
And plus there are always left overs!
Also I decided it was time for you to meet our kitties Olive and Autumn!
Yes their names are quite similar when you are saying them that is why they get called each
others name quite often. We didn't really think it through very well!
Anyway here is little baby Olive thinking the trash can is a place to play in!
And then here they are keeping me company in the bathroom like they always do.
Right now they have decided to be friends!
Well that is all for tonight! I am off to take a relaxing bath! Adam has been at a
friends house doing homework so I have been
by my lonesome! Hate to say it but since I was alone I decided to
watch my awful show that I am not sure why I watch, but I always have to!
No it is not Hannah Montana but in fact Teen Mom 2 yes yes for shame I know!
Well off to bath time! Nighty Night Y'all!